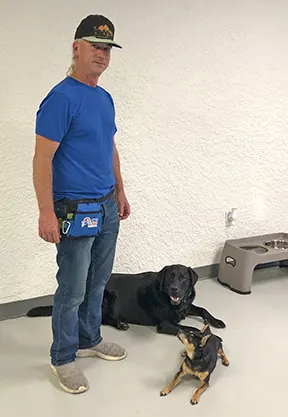 My name is Duane Newton, born in Charlotte N.C. Moved to Surfside Beach in 1993. I married my wife Julie in 2008 and because she was in the Army I spent the last 15 years following her around the country. Now she is retired and I get to bring what I enjoy back Surfside Beach. One place we were stationed was Texas, where I had the privilege of attending Starmark Animal Behavior Center, (formerly Triple Crown Academy) in Hutto, Texas, graduating in March of 2017.
After graduating from Starmark, I became the head trainer at a boarding and daycare facility in Schertz, TX. Then had the privilege of working with Operation Battle Buddies (OBB) a 501c3 that would provide a puppy to a veteran then I would work with the veteran to train their own service dog that be certified through Foundation for Service Dog Support inc.(FSDS)
I am a balanced trainer which means I use positive and negative reinforcements – heavy on the positive side with food. I believe the negative reinforcement is necessary to help the dog understand what is not correct or allowed.
I am an evaluator for:
Foundation for Service Dog Support inc. (FSDS)
American Kennel Club (AKC)
Member of Association for Professional Dog Trainers (APDT)