"Where obedience meets fun"
Certified dog trainer Serving the Myrtle beach Area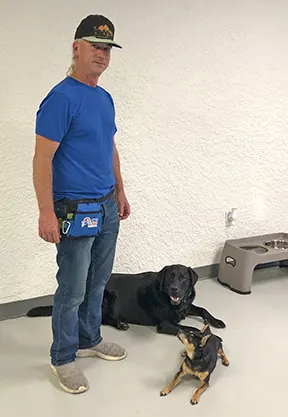 Meet your dog trainer ...
Duane Newton, is a Certified Dog Trainer and Behavior Specialist. He graduated from the respected Starmark Academy in Hutto, TX. After graduation he was a head trainer at a boarding/daycare facility in Schertz, TX. He also worked with Operation Battle Buddies that provides training for veterans and their service dogs.
I am a balanced trainer which means I use positive and negative reinforcements – heavy on the positive side with food. I believe the negative reinforcement is necessary to help the dog understand what is not correct or allowed.
Duane is an evaluator for Foundation for Service Dog Support Inc. (FSDS), the American Kennel Club (AKC), and a member of Association for Professional Dog Trainers (APDT).
Quick Start Dog Training Packages
Duane is an expert at creating a training package designed specifically for your dog to enjoy! He has designed (2) packages that usually gets most dogs behaving quickly and obediently!
obedience training • home manners • behavior issues
This includes 5 sessions that are approximately 1 hour each. Four of the sessions are at our facility in Surfside Beach, SC. The last session is in a public setting such as the beach or Market Common, or at the owner's home.
During the day your tail wagger stays with Duane so he can teach them the commands and signals. At the end of the day when you pick them up you will have a 30 minute session to go over the training. 4 day sessions at Eyes on Your Dog Training location and 4 go home lessons.
* All dog training packages include a Slip Leash, Treat Pouch & Place Bed.
Professional & Compassionate Dog training for all sizes and breeds.